ELIZABETH DOVE – APRIL 2 – MAY 1 2016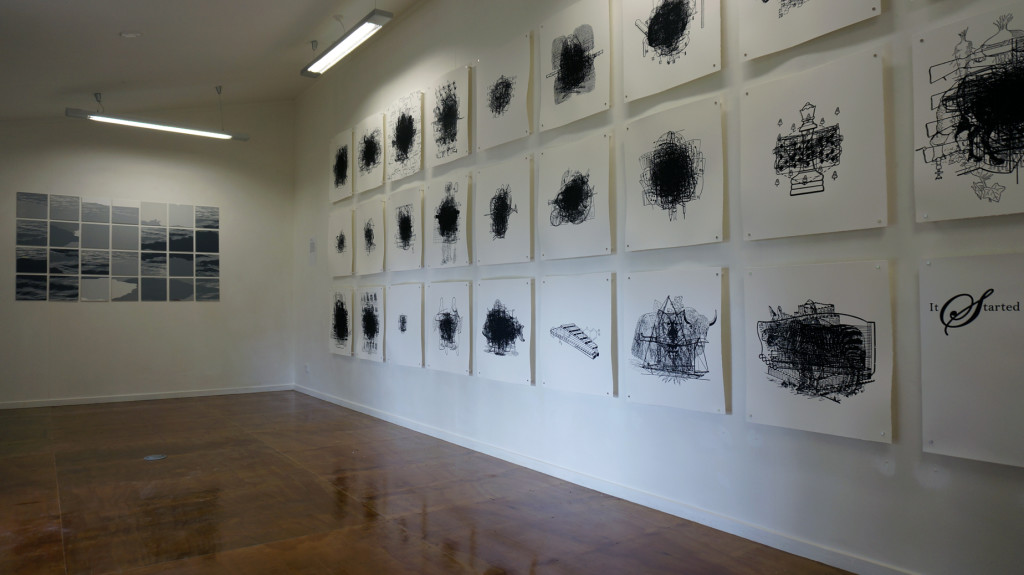 Elizabeth Dove's projects utilize varied forms of print media, photography, and installation. She is a Professor in the School of Art at the University of Montana in Missoula. Dove maintains an active exhibition record, with solo shows at the Lessedra Gallery, Sofia, Bulgaria; Prescott College Art Gallery, Arizona; DePree Gallery, Hope College, Holland, Michigan; and participation in numerous group shows including the International Print Center, New York; Cultural Centre Modern Gallery, Gornji Milanovac, Serbia; Lahti Art Museum, Lahti, Finland; and Kellogg Art Gallery, Pomona, California. Her work is included in the publications Printmaking: A Complete Guide, Non-Toxic Printmaking, The Contemporary Printmaker, and the British journal Printmaking Today. She received her BFA from the Maryland Institute, College of Art, her MFA from Vermont College. www.elizabethdove.com
Elizabeth's exhibition featured the following installations:
THE OCEAN HAS NO MEMORY
screenprint, 28 panels, 2014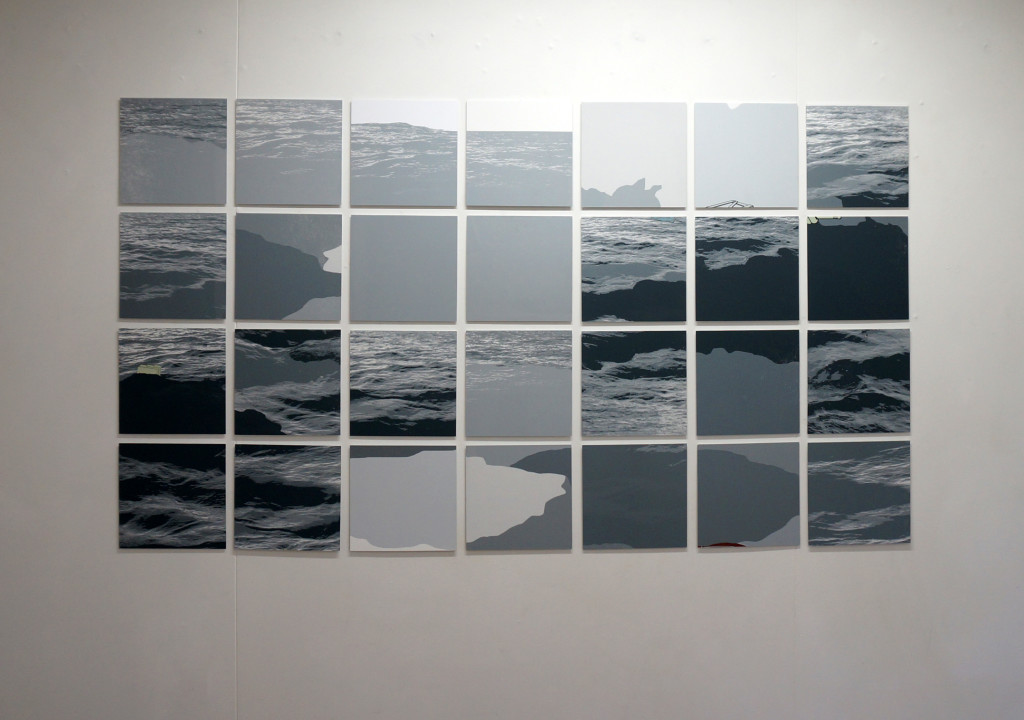 Retaining memories seems impossible for me, and this is my visual analogy for that struggle.
Using a repeated image of ocean waves as its foundation, The Ocean has no Memory portrays the ebb and flow of waves, with slivers of objects sporadically floating and sinking in the water. Each section is only part of a print cut from a larger cohesive whole, the sections then mounted and assembled into a grid. While the grid suggests order and structure, the waves themselves won't be static. Each wave inevitably transforms into the next one, created from the exact substance as the last. Some parts are detailed, while other parts are simplified into flat patches of grey. Compositionally this works to provide movement; the waves shift and bring a sense of tidal motion. Conceptually this works to suggest erasure, as the flattening of forms becomes a visualized forgetting.
IT STARTED WITH AARDVARK
screenprint, series of 26 prints, 2012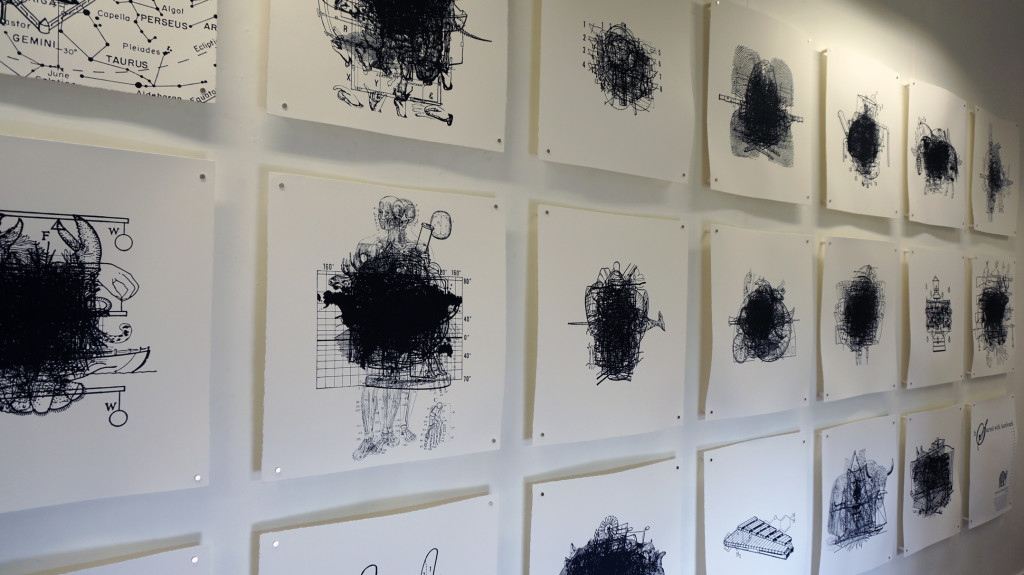 It Started with Aardvark is a series of twenty-six screenprints, one for each letter of the alphabet. It includes every illustration from the dictionary, with these images organized by letter. These screenprints do not portray the thousands of illustrations as separate images as they are in the dictionary volume. Instead, the illustrations overlap in successive layers printed one on top of another, forming a composite which is both legible and chaotic, a dense logo of information where the surface of the print retains the individual outlines of each illustration like a sedimentary deposit. The laborious printing of each individual illustration is a process analogous to the difficulty and the complexity of the search for meaning.
NEITHER CAN I
graphite on vellum, 2016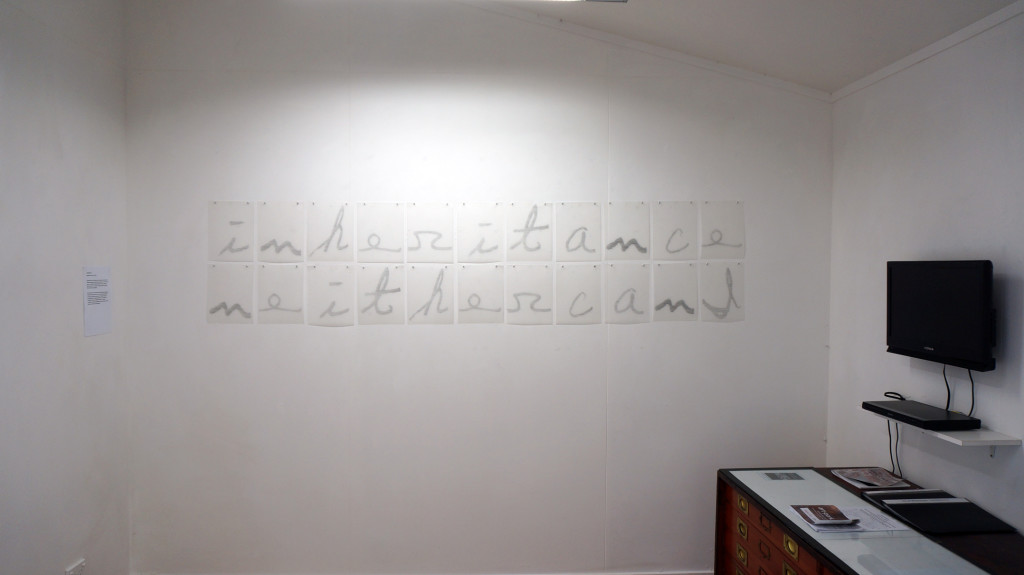 While the word inheritance can create more than 2,000 different anagrams, the phrase neither can I is the most potent. I copied the individual letters from a letter my father wrote to me, a letter I read only after his death. We shared many qualities.
Even though I was meticulous and devoted to drawing hundreds of parallel lines, I still made many mistakes. Through the laborious tracing of his script I hope to demonstrate both respect and burden. This simple project has many complicated facets, to include endurance, lineage, expectations, rigor, secrecy, failure, learning, scrutiny and compassion.